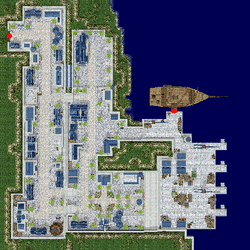 Alberta
is the port city of Rune-Midgard Kingdom. It is the gateway to many cities found across the wide seas and became home to a great trading industry, making it home to the
Merchant
guild. This is one of the original places in Ragnarok.
Geography
Edit
Alberta is built at the end of Payon Forest, facing the wide sea. It is fully forest from the west and waters from the east. The cool ocean breeze prevails around the city. Other smaller islands are found near offshore Alberta, including Alberta Island.
The map of Alberta is shown below. Red dots mark the entrance to other areas.
Sunken Ship / Treasure Island
Below is the map of Alberta and its nearby islands.
The port city Alberta where the ocean breeze is always pleasing. The Merchant Guild is also located here. However, you can't find many merchants here because most of the trades that are done here are between in larger cities... A ship that sunk with a large amount of treasure was found recently attracting much interest.
Ad blocker interference detected!
Wikia is a free-to-use site that makes money from advertising. We have a modified experience for viewers using ad blockers

Wikia is not accessible if you've made further modifications. Remove the custom ad blocker rule(s) and the page will load as expected.